The Live
Data Platform
A platform built for experiencing the speed, scale, and efficiency of enterprise data. Explore DataSet's patented live data platform.
The DataSet Architecture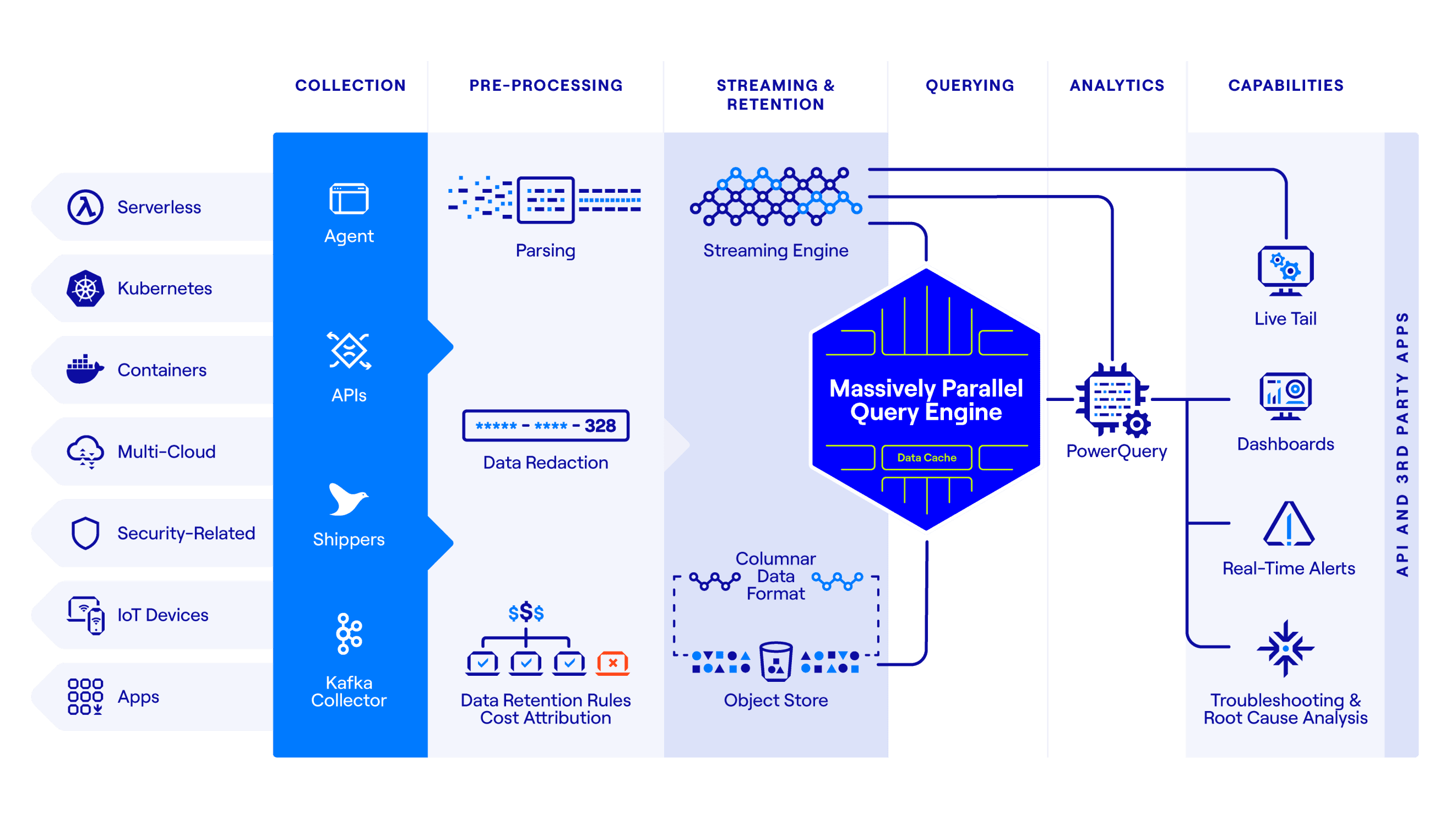 Why Live Data is Better
All types of data. Streaming and historical. All time periods. Past and present.
Unlock the ultimate live data experience.

---
Speed
Queries return in milliseconds. That's fast. Blazing fast. Immediately query live and historical data at petabyte scale.
---
Scale
Elastically scale to infinity - and beyond. No need to rebalance nodes, manage storage, or allocate resources. Experience effortless scale.
---
Cost
Lower total cost of ownership by magnitudes. Delivered as a cloud-native service, DataSet outperforms the competition in delivering value.
Schema-less Ingestion
DataSet's approach eliminates costly schema evaluations during ingestion. In milliseconds, DataSet welcomes data from a broad range of log shippers, queues, agents, distributed stream processors, and APIs.
Parsing &
Pre-Processing
Whether structured, unstructured, or semi-structured, data is diverse. DataSet automatically parses data upon ingestion. Pre-processing powered by flexible rules specify longevity and cost attribution, providing granular visibility and control at scale.
Streaming Engine
As data enters the platform, the Streaming Engine creates materialized views for repeat queries. Dashboards instantly refresh, alerts trigger at machine speed, and automation tasks execute in real-time - even at petabyte scale. Unlike traditional time-series databases, DataSet supports unlimited data dimensions and high-cardinality analytics.
With DataSet, we can resolve customer-facing issues far more quickly, cutting resolution time by 80 percent.
Leon Chapman
Director of Cloud Operations
Efficient Parallel Query Engine
Using horizontal scheduling, devoting the entire cluster – every CPU core on every compute node – to one query at a time, results in blazing fast speed. This technique is the same approach used by Google Web Search and provides unprecedented performance and efficiency.
Secure Storage & Retention
DataSet's columnar index-free format keeps data fresh. Always live. Data is never "cold" or "frozen" and can be searched instantly. Data is encrypted in-transit and at-rest as well as stored in a security-first platform.
Cloud-Native Architecture
Built in the cloud for the cloud. By separating storage from compute, DataSet scales to maximize performance. Experience cloud scale.